USB FLASH DRIVES
CM-1095 with Express service from China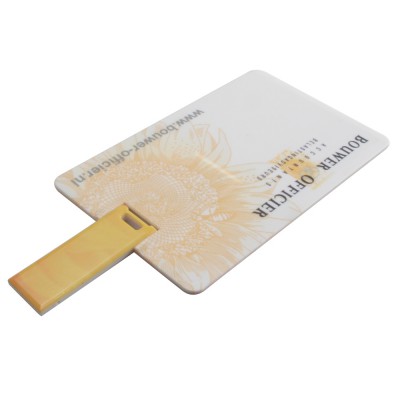 CM-1095A
C-man express service for credit card model
Can be printed in full color on two sides with our own digital printer.
Easy to take with you in any type of wallet.
Super thin Flash Drive credit card model.
With Express service we ship from China in 5 working days!
Product code:
CM-1095A
Dimension:
85 x 55 x 2 mm.
Color(s):
White
Packaging:
White Credit Card Box, Bulk
Decoration:
Full color 95, Photo transfer
Print dimension:
Front: 85 x 55 mm. Back: 85 x 55 mm.
Technical
Powered by USB, no external power needed
Supports boot-up by USB-HDD or USB-ZIP mode
Shake protection, electromagnetic wave protection
Compatible between different operating systems
Application software support in Windows OS security function
Available capacity: 128MB-16GB
OTHER USB FLASH DRIVES PRODUCTS